Firstly a couple of pictures of my spring bulbs in flower, three weeks earlier than the same varieties last year!
As well as trying to reduce the UFO list I am also attempting to keep my fabric scraps under some semblance of control. I know all quilters consider different sizes to be "scraps", for me it is probably anything less than 1/8th of a yard. Above a yard it is yardage, between 1/8 yard (fat or long/thin) and a yard it is a piece, but so long as it is bigger than 3/4" in one dimension it is worth keeping. Of course if I bought a stack of precuts of whatever size they would also be pieces not scraps. I hope that is all as clear as mud.
A great help in dealing with my scraps is
Bonnie Hunter
's
scrap user's system
though I think of it more as a scrap tamer's system :) I don't follow Bonnie's system with every piece of fabric, but as I come to the end of the cutting phase for a project I do, usually, cut the smaller pieces into strips, squares & strings and put them into boxes. I used to use cardboard shoeboxes but have now discovered Sterilite 6 quart clear plastic boxes, which my local Home Depot has at 98 cents per box, including the lid! Slowly I am putting my larger volumes of scraps into those and I can see what I have. I also keep a box of all the odd shaped bits that I can't be bothered into sorting more formally, including all the triangles that I trim as I make binding strips and other little itty bitty pieces almost too small to use. These small pieces end up in crumb blocks which in turn make the scrappiest, most colorful quilts full of all my quilting history. Anything less than 3/4" square does eventually end up in the bin.
This week I have continued working on the elephant quilt for my granddaughter and now have 15 pink heffalumps partially sewn together. In making this I have also ended up with lots of little HSTs* made by sewing an extra line of stitching before trimming off the corner triangles - maybe in this instance these could be called elephant droppings? I think I shall press and trim them, sew them together in little blocks and make some pincushions using Amanda Jean's method over at
Crazy Mom Quilts
in the hope that using up the scraps as I create them will help keep them under control. All I'll have to do is work out what to do with all the pincushions!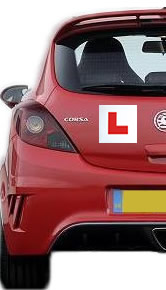 A quick note on another difference between the UK & the USA: driving! My younger son turned 16 at the beginning of the month and I now have TWO teenage sons with learner's permits. Eeeek!
Back in the UK I would have paid to send them out with a driving instructor in a dual control car for him/her to deal with their awkward kangaroo hops in a manual transmission (stick shift) as they learned clutch control and I would only have taken them out once they had already developed some skills, also they would have had to display "L plates" (as in the image to the left) on the front and back of the vehicle whenever they were driving to let other road users know the car was in the "control" of a learner driver. Here it has been up to me to do the initial skills transfer, starting in DH's work place car park/parking lot and soon they will be on the real roads with no warning to other drivers that they are inexperienced drivers. Admittedly, starting to drive in an automatic is more straightforward, but I know there are all sorts of skills and habits that a UK certified driving school instills in a young driver that I will not remember to pass on to my sons. In due course they will be taught how to drive using a clutch, so one thing they already know is not to put their left foot anywhere other than flat on the floor or the foot rest! From my quick internet search for L plates it seems that even our UK
armed forces
are not exempt from the L plate rule.
* HST = Half Square Triangle